Dates
Veranstaltungen am 10. November 2023
KILLAFLAW + THE DIRTY RICH
Die großen Städte Englands sind ein kultureller Schmelztiegel und somit auch eine Teufelsküche für neue Sounds. Egal ob Beatles, Stones oder Joy Division, ob Punk, Big Beat, Drum'n Bass oder UK-Garage, groß wurden neue Sounds stets in Großbritannien. Und nach wie vor brodelt der Underground mit vielen interessanten Acts, die jederzeit kurz vorm Durchbruch stehen. Zwei hoffnungsvolle Bands schickt ZK Concerts im November auf eine kurze Tour durch deutsche Lande.
KILLAFLAW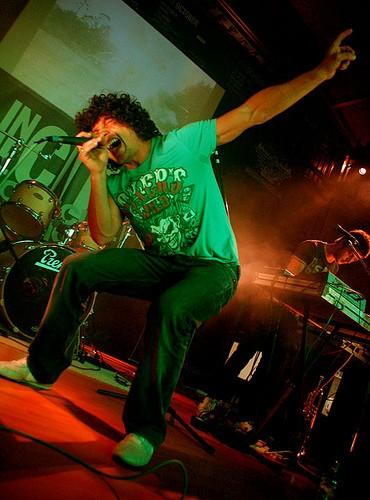 KILLAFLAW kommen aus Liverpool und haben sich nach einem Song der Blues-Legende Howlin' Wolf benannt. Das Duo besteht aus dem unglaublich charismatischen Sänger Benn Helm und Andy Paton, einem elektronischen Soundtüftler. Die britische Musikpresse beschreibt ihren Sound als eine Mischung aus LED ZEPPELIN und CHEMICAL BROTHERS, als fehlendes Glied zwischen SOUNDGARDEN und THE PRODIGY. Mit ihrem ersten Track "Revolution" gewannen sie direkt den XFM Demo Of The Year Award und ihre erste Single "Set me on fire" fand via Internet weltweit Fans, war Nummer 1 in den US DMC-Charts, lief auf allen großen Radiostationen ihrer Heimat (BBC1, etc.) und wurde von den UTAH SAINTS geremixt. Darüber hinaus wurde das Stück ein beliebter Soundtrack für die Filmchen der Youtube-Community. KILLAFLAW sind aber auch unermüdlich live unterwegs. Sie spielten bereits auf dem Glastonbury Festival, Secret Garden Party, Beat Herder, diversen Radio-Showcases und in vielen größeren und namhaften Clubs in London und Liverpool. Sie wurden zu BBC- und MTV-Showcases eingeladen. Im Sommer 2010 stieg der ex-PENDULUM und APOLLO 440 Schlagzeuger Paul Kodish als Livedrummer bei ihnen ein, und 2011 veröffentlichten sie ihre Single "Happy Daze" bei Westway Records. Das UK-DJ Magazine meint über sie: "KILLAFLAW haben Passion und Soul, Kraft und wundervolle Stücke. Die werden mal groß raus kommen."
THE DIRTY RICH
Bei THE DIRTY RICH ist der Name Programm. Sänger Boylan's Vater war Millionär und hinterließ ihm, als er starb, neben seinem Vermögen auch eine schnuckelige Villa inmitten von London. Dieses Domizil, "The Mansion" genannt, ist seither Dreh und Angelpunkt im Universum der DIRTY RICH. Die Jungs leben dort zusammen mit ein paar Kumpels und zelebrieren die wildesten Haus-Partys der Stadt, auf denen dann auch schon mal so illustre Leute wie Brian Molko oder Liam Howlett auftauchen. Und DIRTY RICH machen Musik auf ihrem Anwesen, und zwar wirklich gute. Schwer beeinflusst von THE PRODIGY mixen sie treibenden Electro-Bigbeat mit rockenden Gitarren und rotzigen Vocals. Im Gegensatz zu vielen anderen Dancefloor Acts sind sie eine echte Band, die alle Sounds live in Stage mit Gitarren, Keyboards/Sampler und Drums rüber bringt. Ihre selbstproduzierte TV-Sendung "Dirty Rich TV" ist mittlerweile Kult und machte sie via Internet auch über die Grenzen ihrer Heimat bekannt. An ihrem Debüt-Album feilten die PRODIGY-Produzenten mit und es dürfte kaum verwundern, wenn diesen Jungs nicht bald mal der große Wurf gelingen wird.
Datum
Veranstaltungen im November 2012
Info