Dates
Veranstaltungen am 05. Mai 2023
Nägel mit Köpfen IV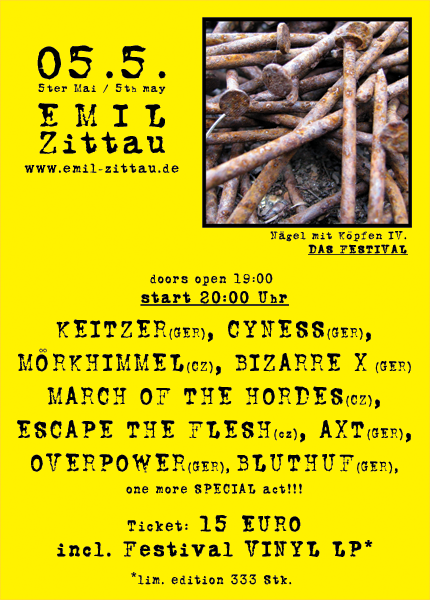 Lady's and Gentlemen,

few minutes ago the SPECIAL ACT confirmed for NMK IV. FESTHell yeah, we are really glad to have this amazing surprise act for you.
SURPRISE … no one will know which band enter the stage at last.
Listen, a mighty wave, called OCCULT ROCK, splash over Europe in the last months. BLACK SABBATH, WITCHFINDER GENERAL, GHOST, ELECTRIC WIZZARD ….u know the mighty names and bands.

We don`t want stop it.
Yes, we are proud to present you…
SURPRISE, SURPRISE….
On 05.05.2012, 3:33am you will find there exclusive track for the NMK IV:
FEST COMPILATION LP here:
http://wifagenarecords.bandcamp.com/album/nmk-iv-compilation and few hours later as VINYL in your hands!!!
KEITZER
CYNESS
MÖRKHIMMEL
BIZARRE X
MARCH OF THE HORDES
ESCAPE THE FLESH
AXT
OVERPOWER
BLUTHUF
Datum
Veranstaltungen im Mai 2012
Info